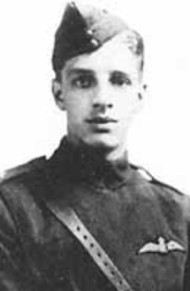 2014, one hundred years since the start of the Great War, one of the most cataclysmic events in world history. Here's an incredible interview with Cecil Arthur Lewis, the last surviving British World War I ace, done before his death in 1997.
Cecil Arthur Lewis, from the interview, commenting on what he felt after November 11, 1918:  "to find oneself alive, with the whole of life before one, and all the possibilities… it was an enormous release… and life just beginning with all that already behind…"
And what a life he led! Credited with shooting down eight German planes over Flanders and awarded the Military Cross, Lewis taught flying in China after the war, married the daughter of a White Russian general, and returned to England in 1922 and helped found the BBC. He wrote a number of successful books, one of which, Sagittarious Rising, about his Great War flying experiences, was recently recommended to me by a China's Wings fan. As a screenwriter, Lewis won an Oscar in 1938 for his adaptation of George Bernard Shaw's Pygmalion, and his screenplay served as the basis for the hit Broadway musical My Fair Lady.
Here are Lewis's obituaries in The Independent and The New York Times.